SET TIMES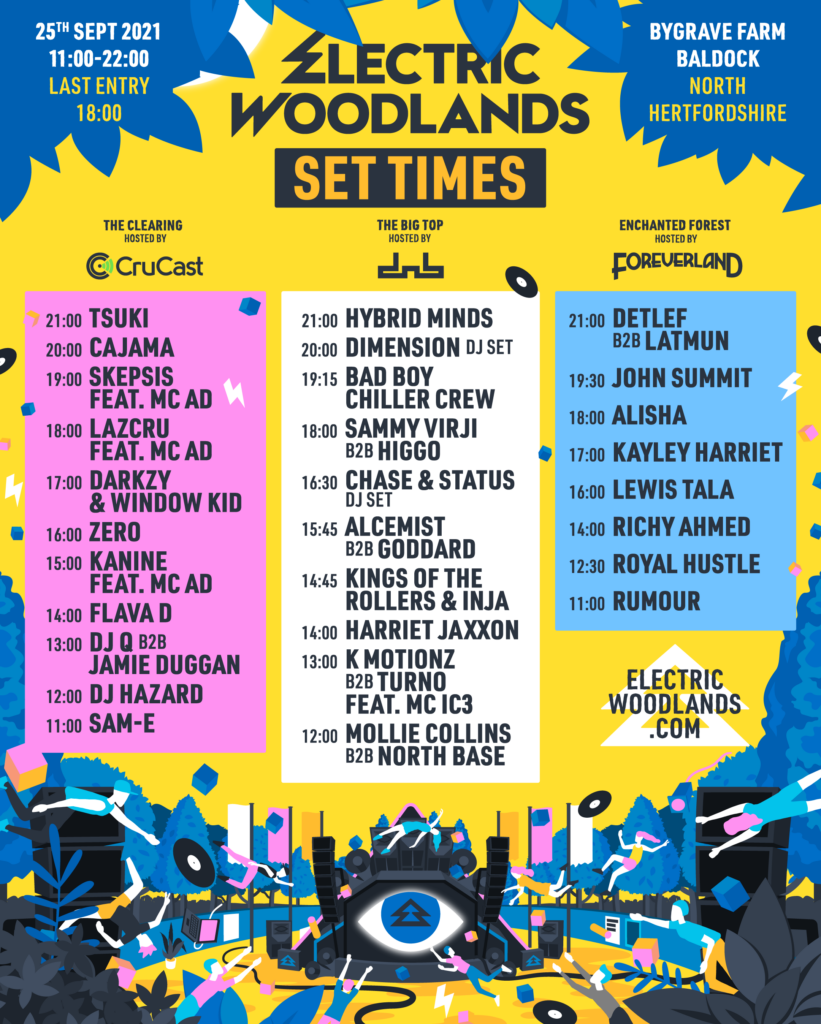 CONDITIONS OF ENTRY
Entry to the event will only be authorised upon presentation of a valid ticket or accreditation issued by or on behalf of the Organiser andphotographic proof of identity (passport or driving licence).
Bags are restricted to one per person and must be no larger than 40cm x 30cm x 30cm
We will search all bags before granting entry to the event and subsequently, if required. We also reserve the right to search persons on entry to the event.
Anyone refusing to submit to a search will be refused entry or will be removed from the event
The following items are prohibited:
Glass (inc. perfume bottles)
Nitrous Oxide / Nos / Balloons 
Drugs (including Psychoactive Substances)
Spray Cans
Fireworks, Flares or Pyrotechnics of any nature
Barbecues / Camping Stoves / Gas Bottles
Animals (other than registered guide dogs)
Sound systems
Alcohol
Any item that could be considered an offensive weapon
Unauthorised Professional Film or Video Equipment
Drones or other Unmanned Aerial Devices
Please use the Amnesty Bin provided
COVID-19
Upon entry to the event, all Ticket Holders shall be required to show certification of a 
negative COVID-19 lateral flow test result (taken in the 48 hours prior to the event) with certification shown via email or text; or 
a double COVID-19 vaccination received at least 2 weeks prior to attending the event, which Ticket Holders shall be required to show:
via the NHS App;or 
via the approved certification routes for Ticket Holders from Scotland, Wales and Northern Ireland. 
All other Ticket Holders will be required to undertake a COVID-19 lateral flow test and provide proof of a negative result in order to gain entry.
ABOUT THE FESTIVAL
The stunning location of Bygrave Farm site has been the home of Farr Festival in previous years and is also the current home of Warm Up Festival.
This festival is organised by national promoter Louder Entertainment, organisers of the RTRN II Dance Festival, Alt LDN, Yam Carnival in London and is also behind many other prestigious events across the UK.
COVID ENTRY POLICY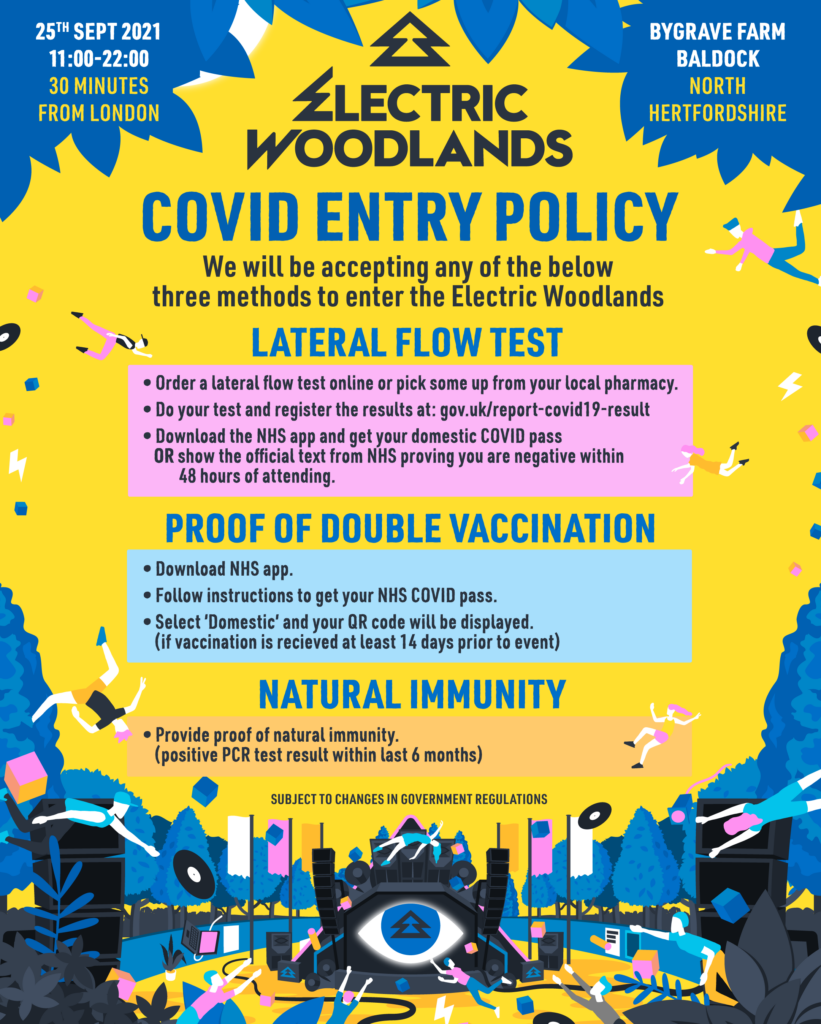 COVID REFUND POLICY
Electric Woodlands offers Covid Guarantee (see Skiddle's terms below)
Tickets are non-refundable, except if the event is cancelled before it has started.
In the event of postponement before the festival has started, and where the festival is rescheduled to another date, the ticket will automatically role over to the postponed date and will be stored in your Skiddle account.
If you cannot make the rescheduled date you may request a refund. Refunds under these circumstances must be applied for within 14 days of the date of postponement.
Artist billing is subject to change at any time without notice.
More on Covid Refund Policy – https://www.skiddle.com/news/all/Coronavirus-COVID-19-customer-update/54897/
WHO ARE THE OFFICIAL TICKET VENDORS?
Our ticketing party is Skiddle and Big Green Coach. Ticket and travel packages are hosted on both sites. Tickets must be bought in advance of the festival and none will be available on the door.
Please ensure you do not buy tickets from any other platforms or third-party sellers, as these will not be valid.
OPENING TIMES AND LAST ENTRY
Festival gates open at 11am and closes at 10pm. Last entry is 6pm.
Once you have entered the forest there will be no re admittance into the event.
No camping is allowed on the festival site. All vehicles must be removed from site upon close.
AGE OF ENTRY
Electric Woodlands festival is strictly 18+. Everyone is required to demonstrate proof of age with a Passport or Driver's License. We will not accept any other form of ID.
Photocopies are not acceptable
Screen shots of any form of ID will NOT be accepted
If your ID is out of date then unfortunately we cannot accept it
If you are found to be using ID that isn't yours you will be removed from the grounds with NO refund
CASH & BARS
Electric Woodlands is going to be a fully cashless site, and you'll be able to use your card to buy food and drink throughout the day. Customers will not be able to bring food or drink into the festival, however there will be a selection of bars and food traders on site for you to choose from!